[wptabs style="wpui-narrow" mode="horizontal"]
[wptabtitle] Tx300P-1800B [/wptabtitle]
[wptabcontent]
High quality belt-fed direct- to-textile printer for stretchable fabrics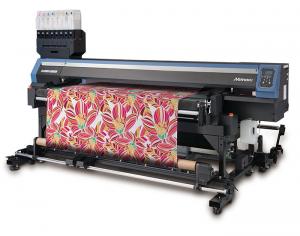 With its winning combination of quality, high speed and innovative automated belt-fed conveyance system, the Mimaki Tx300P-1800B has been developed to print direct to a broad range of natural and man-made fabrics. Particularly effective for printing on modern stretchable materials, the Tx300P-1800B is ideally suited to the production of fashion, clothing and soft furnishings.
Tx300P-1800B delivers • • •
Maximum print speed of 53m2/h (Draft speed – in 4-colour mode)
Sublimation, disperse, reactive & acid dye and textile pigment inks
Belt transfer system for accurate print on stretchable or thin fabrics
Mimaki Mimaki Bulk Ink System (MBIS) and large volume ink packs
Latest Mimaki Advanced Pass System (MAPS)
Nozzle Check Unit (NCU) ensures reliable continuous print operation
Adjustable head gap setting for thick and woven textiles
Unique dual ink capability to simultaneously load textile pigment and sublimation dye inks on one printer
[/wptabcontent]
[wptabtitle]Applications[/wptabtitle]
[wptabcontent]
Applications of Tx300P-1800B

Fashion and Apparel, including dresses, shirts and scarves
Upholstery and Soft Furnishing fabrics, including bed linen, cushions, curtains
And much more
[/wptabcontent]
[wptabtitle] Specifications[/wptabtitle]
[wptabcontent]
Specifications, options and supplies of Tx300P-1800B
Options and Supplies
Item
Tx300P-1800B
Printhead
On-demand piezo head (4 in-line printheads)
Print resolution
360dpi, 540dpi, 720dpi, 1,080dpi, 1,440dpi
Drop size
Minimum 6pl, Maximum 24pl (Varies depend on ink type)
Head height
Manual adjustment (2.0mm~7.0mm)*Standard:3mm
Maximum print width
1,880mm
Maximum media width
1,900mm
Ink
Type/Colour
Sublimation dye ink: Sb420 (Bl, M, Y, K, Lbl, Lm)
Disperse dye ink: Dd400 (C, M, Y, K, R, Grey, Violet, Pink)
Textile pigment ink: TP400 (C, M, Y, K)*1
Reactive dye ink: RC400 (C, M, Y, K, Bl, R, Or, Lk)
Acid dye ink: AC400 (C, M, Y, K, Bl, R, Or, Lk)*2
Package size
2L Ink pack
Media thickness
1.0mm or less
Roll media weight
40kg or less
Roll diameter
φ250 mm or less
Media type
Natural fibre (cotton, silk, hemp etc.) Chemical fibre (polyester, nylon etc.)
Certification
VCCI class A, FCC class A, ETL UL 60950-1
CE Marking (EMC, Low voltage, Machinery directive, and RoHS),
CB, REACH, RCM
Power supply
Single-phase (AC100~120V/200~240V ±10%)×2     50/60Hz±1Hz
Power consumption
AC100V : 1.44kW x2 / AC200V : 1.92kW x2
Interface
For print data: Ethernet 1000BASE-T / USB 2.0 Hi-speed
For e-mail: Ethernet 10BASE-T / 100BASE-TX / 1000BASE-T
Operational environment
Temperature: 20 – 30 °C (68 – 86 F°) Humidity: 35 – 65% Rh (Non condensing)
Dimensions (WxDxH)
3,197 x 1,798 x 1,845mm
Weight
627kg
Options and Supplies
Item
Product No.
Remarks
Sublimation dye ink:
Sb420
Blue
I-SB420-BLD-2L-1
2,000 ml Ink pack
Magenta
I-SB420-MD-2L-1
Yellow
I-SB420-YD-2L-1
Black
I-SB420-KD-2L-1
Light blue
I-SB420-LBD-2L-1
Light magenta
I-SB420-LMD-2L-1
Disperse dye ink:
Dd400
Cyan
I-DD400-C-2L-1
2,000 ml Ink pack
Magenta
I-DD400-M-2L-1
Yellow
I-DD400-Y-2L-1
Black
I-DD400-K-2L-1
Red
I-DD400-R-2L-1
Grey
I-DD400-G-2L-1
Violet
I-DD400-V-2L-1
Pink
I-DD400-P-2L-1
Textile pigment ink: TP400*1
Cyan
I-TP400-C-2L-1
2,000 ml Ink pack
Magenta
I-TP400-M-2L-1
Yellow
I-TP400-Y-2L-1
Black
I-TP400-K-2L-1
Reactive dye ink:
RC400
Cyan
I-RC400-C-2L-1
2,000 ml Ink pack
Magenta
I-RC400-M-2L-1
Yellow
I-RC400-Y-2L-1
Black
I-RC400-K-2L-1
Blue
I-RC400-BL-2L-1
Red
I-RC400-R-2L-1
Orange
I-RC400-OR-2L-1
Light black
I-RC400-LK-2L-1
Acid dye ink:
AC400*2
Cyan
TBA
2,000 ml Ink pack
Magenta
Yellow
Black
Blue
Red
Orange
Light black
Washing Liquid cartridge
SPC-0259
Washing liquid
for head cleaning.220ml cartridge
Washing Liquid cartridge
SPC-0188S
Washing liquid
for ink replacement.220ml cartridge
[/wptabcontent]
[wptabtitle] Features[/wptabtitle] [wptabcontent]
Features of Tx300P-1800B
Mimaki Advanced Pass System (MAPS)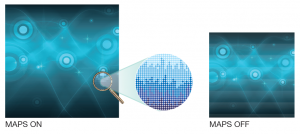 MAPS is Mimaki's unique anti-banding feature. To prevent banding, swath boundaries are overprinted and boundaries prone to banding are printed with fewer ink droplets.
---
Continuous Uninterrupted Printing Features
Nozzle Recovery Function
In the event of a nozzle malfunction not being repairable by the use of the maintenance function, printing can continue by the use of another nozzle, without any loss of productivity or a reduction in image quality.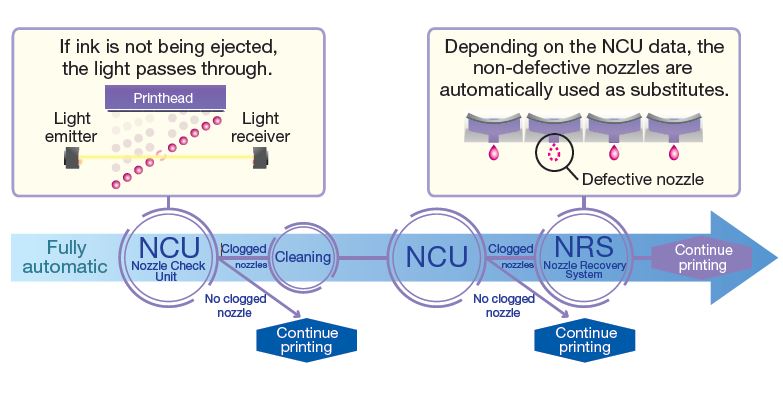 Uninterrupted Ink Supply System (UISS)
Two ink bottles per colour can be set with the UISS function. When an ink bottle runs out, another bottle of the same colour automatically starts supplying ink.
---
5 Ink types for a range of applications and textile types
Ink type
Product name
Colour
Features
Application
Applicable fabric
Sublimation dye
Sb420
Bl, M, Y, K, Lbl, Lm
Sublimation ink for direct printing. No transfer paper is required.
Soft signage
Polyester
Disperse dye
Dd400
C, M, Y, K, R, Grey,
Violet, Pink
Inks are fixed by heating and have high durability.
Industrial textile, Luxury apparel, Home furnishing
Polyester, nylon, acetate, and other fibres
Textile pigment
TP400
C, M, Y, K
Simple post-printing process. No steaming, washing and drying processes are required. Inks are fixed only by heating.
Home furnishing
Cotton, hemp,
and other fibres
Reactive dye
Rc400
C, M, Y, K, Bl, R, Or, Lk
Inks produce a wide and vibrant gamut of colours, and have water
resistance, light-fastness and rub-fastness, as dyestuff molecules bond
with the fibres.
Apparel, Home furnishing
Cotton, hemp, silk, rayon, and other fibres
Acid dye
Ac400
C, M, Y, K, Bl, R, Or, Lk
Inks produce vivid and brilliant colours on selected natural or synthetic fibres.
Apparel, Home furnishing
Wool, leather, silk, nylon, and other fabrics
---
Adjustable higher head gap settings for thicker fabrics
While printing on raised fibre surface textiles, a high head gap setting is required to prevent contact between the printhead and any raised fibres. (FIG.1)
On more conventional models, restricted head gap reduces the accuracy of ink droplet placement. (FIG.2)
The Tx300P-1800B employs a new advanced printhead with a high head gap to ensure accurate ink droplet placement, thereby enabling high-quality printing on a wide variety of fabric types. (FIG.3)
The head gap is now fully adjustable from 2mm up to 7mm in 0.05mm increments, which enables printing on a wide range of different thicknesses of fabric.
Click on images to enlarge.
---
High performance TXLINK3 Lite RIP software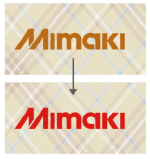 1. COLOUR REPLACEMENT
Desired colours can be represented by specifying the ink volume of each ink colour.
Create desired colours
When the printed colour differs from that expected, the colour replacement function enables a user to specify the desired printing colour as the target colour. This function is useful for reproducing corporate colours.
Colour replacement by swatch book / named colour
Frequently used colours can be registered in a list, to allow automatic colour replacement when the file is opened in the RIP.
Easy to create different colour data
With TxLink3 Lite, colours are easily replaced on vector and raster data.
Colour chart printing
Both 'Swatch Book' and 'Named Colour' have a 'Print Similar Colours' function, which enables similar colours to the colour selected to be printed as a chart.
2. STEP AND REPEAT
Large seamless patterns can be produced from a single image, including repeat and mirror patterns.
3. MULTICOLOUR ICC PROFILE CREATION
ICC profiles can be created simply to match a target colour by following the wizard.
Colour profile creation procedures: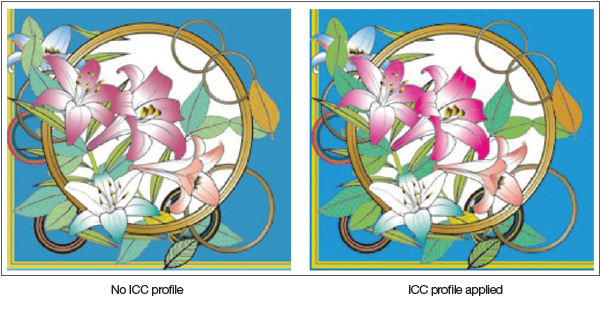 Specify the ink colour for each ink slot.
Set the total ink limit: Print the ink limit chart, then set the maximum ink volume.
Measure the ink density error: (Adjustment of ink density gradation) Each ink density is measured. Density is automatically calculated and adjusted.
ICC profile creation: Measurement of the configuration chart printed from Colour GPS, The profile is automatically created.
---
Belt transfer system for optimum print quality on stretchable fabrics
Stable feeding and transportation of the printable fabric is crucial for high quality direct-to-textile printing. Mimaki's advanced belt-fed technology, incorporating a 'sticky belt' transport system ensures high levels of accuracy and image quality even when working with stretchable fabrics.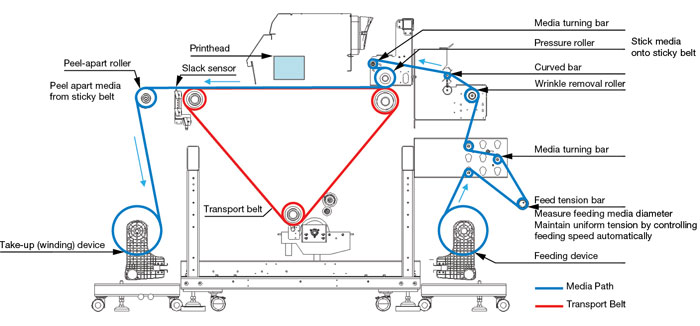 ---
Sticky belt transport system incorporating belt washing facility
The 'Sticky Belt' transport system ensures consistent, high quality printing on stretchable or thin fabrics and is further enhanced by the following additional functions: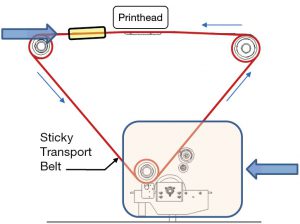 Built-in Belt Washing Mechanism is designed to automatically remove struck-through ink residue from the belt. The mechanism also helps prevent any accumulation of dirt on the belt, thereby maintaining the adhesive qualities of the belt.
(NB: when not required, this function can be turned off to prolong the life of the adhesive belt)
Improved Correct Feed Control (CFC) incorporates a high resolution encoder unit to measure any belt movement more accurately enabling more effective control of feed length and drive rollers.
---
Sophisticated RIP software maximizes the performance of Tx300P-1800B

---
[/wptabcontent]
[wptabtitle]Downloads[/wptabtitle] [wptabcontent]
Downloads of Tx300P-1800B
Please download the brochure for the Mimaki Tx300P-1800B below.

[/wptabcontent]
[wptabtitle]Images[/wptabtitle] [wptabcontent]
Product images of the Tx300P-1800B
[/wptabcontent]
[/wptabs]